It's time for the NFL Divisional Round and all the action kicks off on Saturday with two HUGE games for us to sink our teeth into.
Our predictive analytics model has simulated each game this weekend a ridiculous 10,000 times before running the results up against the sportsbooks' odds to find the best team and player prop plays to make across the board.
Before we get into our suggested plays for Saturday's Divisional Round action, we'd be doing you a disservice by not letting you in on this deal from BetMGM. Basically, you can bet $1 on any team to win this weekend, and as soon as either team in that matchup scores a touchdown, you'll pocket a cool $100.
Find out how to use this offer, here.
‍‍
Let's get into the slate ⏬

We're kicking off the weekend with a spread play on the favorites, with our analytics model liking the Packers to cover the 6.5-point spread that's been put in front of them. ‍
‍
The player prop that looks to be presenting the best value in this game, lines right up with the above bet. After 10,000 sims of the matchup, we have Aaron Rodgers throwing for 351 yards, which would far surpass the 258.5 yards that have been set by most sportsbooks.
If you're looking to place a bet on this player prop, or even another one you may have found in the Rams @ Packers Hub then once you're signed up to the book, you just need to navigate to the page for this particular game and they make it pretty easy, splitting up sections such as 'quarterback markets', 'rushing markets' and more!
‍
In what should be the tightest matchup this weekend according to the odds, DimersBOT has detected an edge in betting on the favorites. Basically, this means that the Bills odds should be even shorter according to our data, making them a great bet straight up.
‍
Following on from the above pick, our projections have Lamar Jackson falling well short of his rushing yards line. Last week, he made an incredible 48-yard rushing TD, which will be tough to replicate against the Bills. Our data suggests he will rush a total of 53 yards this week, which is 20 yards short of the line set by the sportsbooks.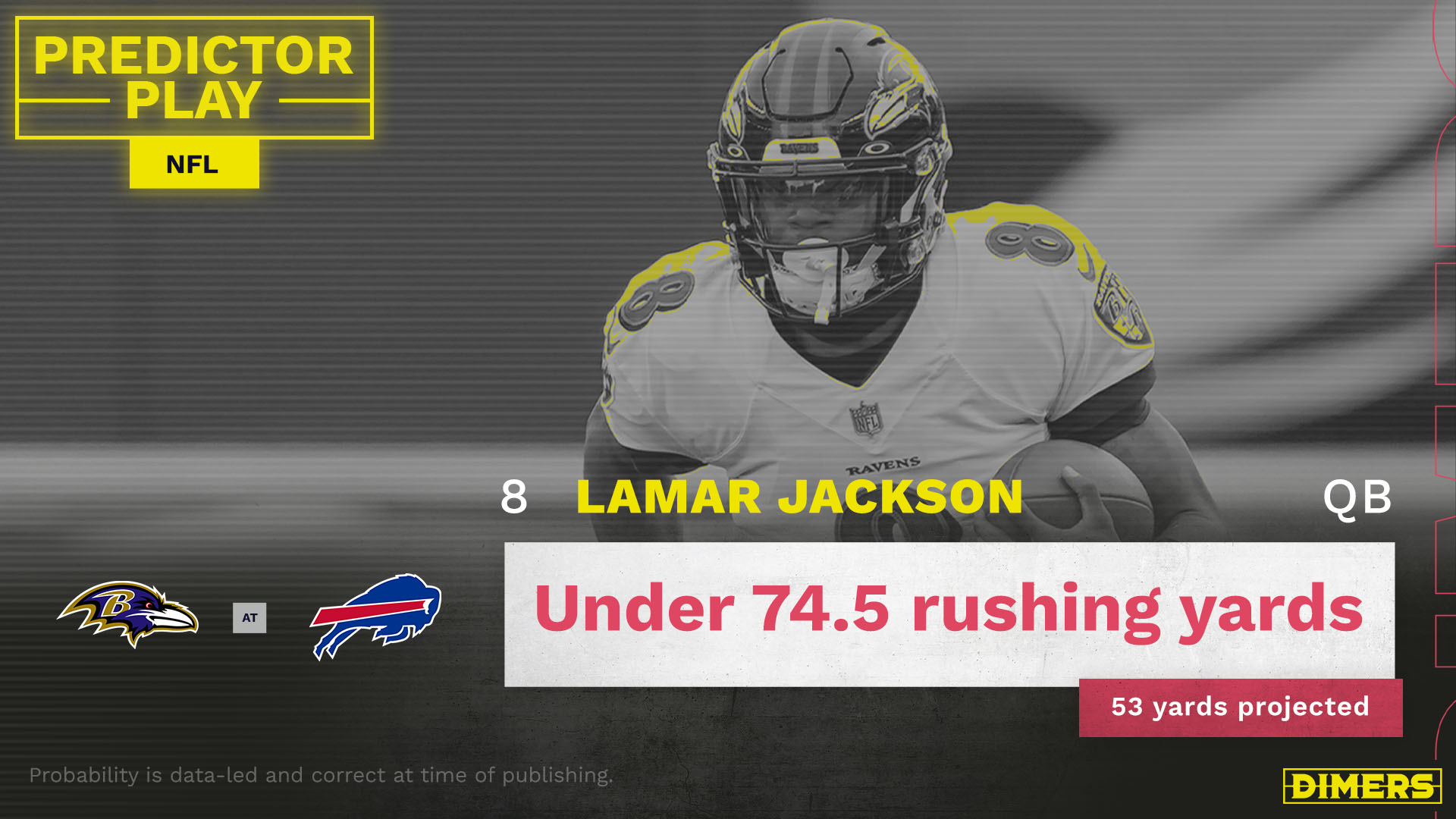 Almost ready to join a Sportsbook and start betting online? We've listed the best available Welcome Offers for each legal betting state below.