The DimersBOT has had a facelift! Introducing our Australian Open Singles Tournament Simulator.
If you frequent Dimers, you'll know that we crunch an enormous amount of sports data every day - the equal of a NASA launch-sequence (probably) - and we've now added tennis to our predictive analytics arsenal too.
That's great, but as we all know, data is only as good as it is useful, so we went a step further and built a tournament simulator too. Why? To predict the winner of every single match throughout the Men's and Women's draws of the Australian Open (AO).
For those playing at home, that means that using our sim you can now check your AO bets before every match, round or final to see if your player will make it through, and how far they could potentially go. Better still, our data will update after every round, meaning the predictions will move around based on who's left (or not left) in the draw.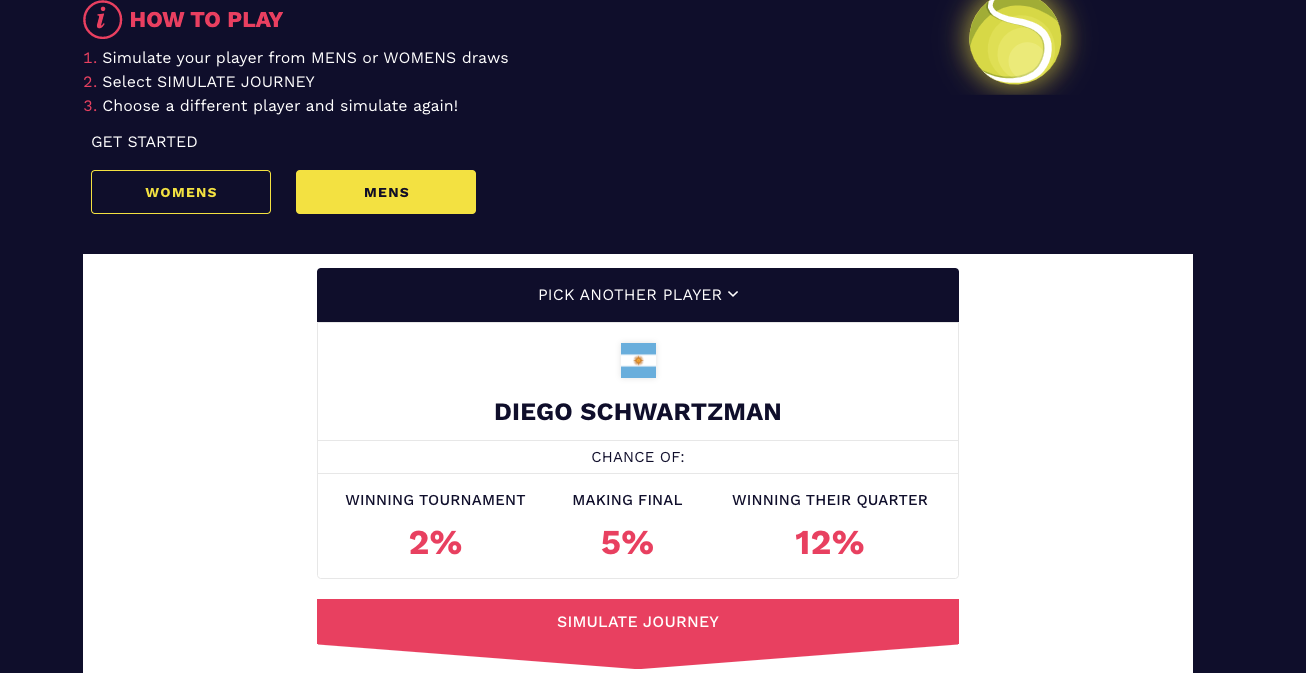 How does it work?
Select the player you want to see progress through the AO, then sit back and watch the simulator do its thing. Each time you click 'SIMULATE' the entire tournament will simulate match-by-match, to give you one single possible tournament outcome from up to 10,000 possible Australian Open championships.
Unhappy with the result or want to see a different variation? Just run the simulator again and you'll have a different outcome... or maybe you won't!
Remember, there are 10,000 possibilities in total.
What goes into a match simulation?
Similar to all of the games, matches and events in our Bet Hubs, we take a range of inputs, including player-level data and court-type rankings, then overlay it with information from the betting markets and trends, which is then amalgamated into performance projections for each player. From there, we run simulations of each match - point-by-point - to form our probabilities for each match. That's what makes the simulator so intriguing and informative to your bets.
How often is it updated?
During the tournament itself, the simulation will regularly be updated with the results of each match, so you can run updated simulations throughout the entire 2021 Australian Open.
In short:
Simulate the Australian Open to see how the player you want to bet on will perform

Check your pick against the predicted outcome

If your picks checks out, place a bet with

FanDuel Sportsbook for the best tennis odds

Simulate the tournament as many times as you like, as every simulation is unique

Check back regularly as the data updates after each round and re-runs all predictions
Remember that you can change your player and re-run simulations infinitely.
Now that we know how to build these bad boys, keep your eyes out for future tournament simulators from Dimers, as there's a certain college basketball tournament happening in March we'd like a steer on too...