PointsBet was originally founded in Australia but launched its US sportsbook operations in 2019. In Australia they established themselves as one of the most trusted sports-betting brands, with a unique and very slick product that is now turning heads in the US.
Visit website
Why join PointsBet?
On top of excellent odds and real money options, PointsBet provides a revolutionary Points Betting concept to give bettors the best value for their money. PointsBet are also serious about providing the best user experience with a slick desktop and app platform. If looking for a new sports book for Super Bowl LV, we have Pointsbet at the top of our list.
Quickest Betting Experience
Daily, market-leading promos
Use promo code: DIMERS
Get 4X Risk-Free Bets up to $1,000
Claim your exclusive offer today
Bet Instantly
If you or someone you know has a gambling problem, crisis counseling and referra...
more
PointsBet Promos and Offers
🙌 MOST POPULAR: 4X Risk-Free Bets
Up to $1,000 in Free Bets When You Join at Dimers
Deposit $150 and Start Betting With $300
That's $150 in Bonus Bets
Deposit $250 and Start Betting With $500
That's $250 in Bonus Bets
PointsBet Review
Although PointsBet does offer traditional betting types that are common with most online sportsbooks, it's not the reason why we're so curious about them.
The PointsBet user interface has the most modern feel to it of all the online sportsbooks and is very aesthetically pleasing on the eye.
Their Points Betting system is completely unique and worth registering an account just to try it out. Of course, if you are a little unsure how it works, it could end up being costly, so make sure to use caution before dipping your toe in the water.
There is no live streaming of sports, which puts PointsBet at a slight disadvantage compared to some of their competitors. However, their sign-up bonuses certainly put to bed any doubts we have about giving them a chance as they are insane welcome offers!
If looking to bet on Super Bowl LV, we recommend signing up, taking full advantage of a sign-up bonus and giving the Points Betting option a spin.
How To Sign Up To PointsBet
In Four Simple Steps
Step 1: Claim your exclusive PointsBet & Dimers promo
First up, make sure you click through from one of our links to get your exclusive bonus. Once you've clicked through, you should see the below co-branded page.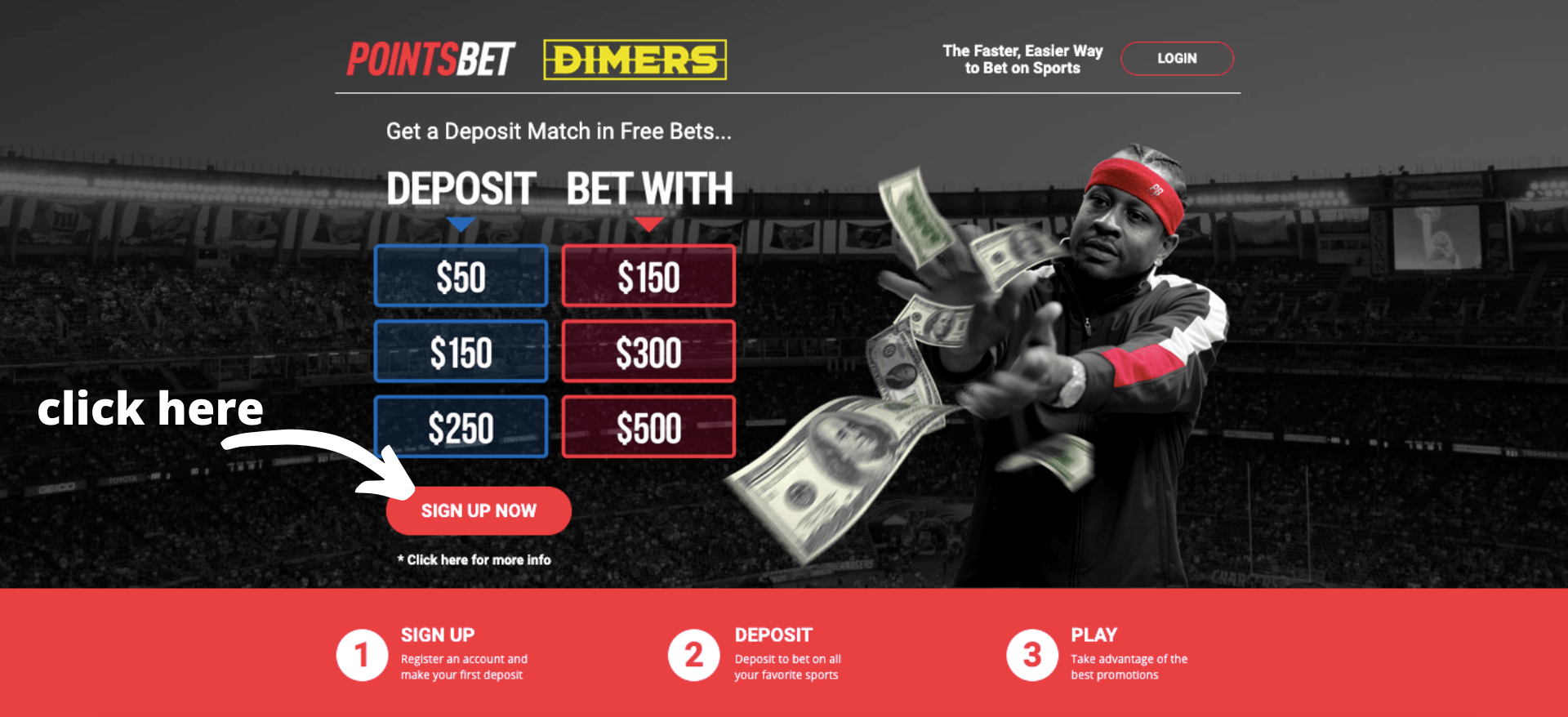 Click SIGN UP NOW
You'll get a pop-up to select your state, so go ahead and SELECT YOUR STATE.
FAQ: Why can't I see my state? Okay Dimers, you may know, that not all states have legislated online sports betting… yet. The sportsbooks are very good at keeping up with the legislation and PointsBet is no exception. If you know your state has already legislated but you can't see PointsBet on the list, it will only be a matter of time.
Step 2: Account Registration
Time to get the forms filled in, but first, make sure you can see the DIMERS promo under Promo Code - as below. Then it's simply entering your First Name, Last Name and your Email, which you'll use to login with once you're up and running
Click CONTINUE...
Step 3: Create Account
You'll then be asked to provide some more details to create your account. These include your DOB, Cell and Address, along with the last four digits of your SSN.
Hint: sportsbooks need to know things like your DOB and SSN (last 4 digits only) to make sure that new players are legitimately new, and to qualify your account. Don't be alarmed, these are standard boxes they need to tick to get you playing and won't come up again once you're in.
Once you've got your address in, the last part is to create a password for logging in with, and to check a number of boxes to agree to the T&Cs. The boxes include things like you're over 21, your info is true, etc.:
Step 4: Confirmation / Further Verification
You're there! Well, just about... similar to providing your address and SSN, during this Confirmation step, PointsBet may need additional info to fully verify your account. Again, this is nothing to be alarmed at. It feels like a lot of more than you expected, but the books are required to make sure you are who you say you are.
Once you've cleared this final step, you'll soon be all set up to bet with Pointsbet.
Hey Dimers - just joined PointsBet , but still new to sports betting? Read our 5 steps to placing your first online sports bet.
Pros
Market-leading promotions
Unique Points Betting system
In-play live betting
Cons
No live streaming
PointsBet Services
Sports
Aussie Rules
Basketball
Cricket
Football
Soccer
Baseball
Hockey
Deposit
Mastercard
Visa
Online Banking
ACH (eCheck)
PointsBet PrePaid Card
Withdrawal Options
Online Banking
ACH (eCheck)
In person at Meadowlands Racetrack
PointsBet PrePaid Card