DraftKings Sportsbook Connecticut
DraftKings Sportsbook is one of the most popular legal online sportsbooks in Connecticut. Founded in the United States in 2012, DraftKings became known as the best place to play daily fantasy sports before expanding its services to include sports betting in 2018. In 2022, DraftKings is bigger and better than ever in CT.
Visit website
Why join DraftKings?
DraftKings is one of the true pioneers in the sports gambling industry, and there's no doubt you've seen DraftKings Sportsbook ads in Connecticut. DraftKings is a safe and trusted app with a sound track record in providing excellent service to users in CT.
One of the Market Leaders
Great Range of Promotions
Daily Fantasy Offering
Bet $5, Win $150 in Free Bets in CT
Get $150 in Free Bets on Any Sport
When You Join via Dimers
Join Now
If you or someone you know has a gambling problem, crisis counseling and referral services can be accessed by calling 1-800-GAMBLER.
DraftKings Promos and Offers
DraftKings Review
DraftKings Sportsbook is one of the top sportsbooks in Connecticut, and it's no surprise to see why. They offer a large spread of different sports to bet on, with a huge variety of standard markets such as Moneyline, Spread and Over/Under, as well as some of the most extensive prop betting markets we've seen in CT.
DraftKings also offers a one-stop shop for live betting in CT, with a fantastic hub that allows you to follow games in real time while placing wagers. The DFS competitions that are so synonymous with DraftKings in Connecticut are still available, too.
Using the PC version of the DraftKings Sportsbook site, we found ourselves a little overwhelmed by the clutter of the homepage with so many markets and promotions stacked on top of each other – however, this only took a few minutes to get used to before we got into the flow of things. The DraftKings Sportsbook mobile app has no such issues and provides a great betting experience for Connecticut users.
What puts DraftKings ahead of the competition in Connecticut, in our opinion, is the seemingly never-ending promotions they have on offer. Anything from gigantic sign-up bonuse of a Bet $5, Win $150 in Free Bets on any sport.
Overall, we are blown away by DraftKings and their market offerings and promotions for sports bettors in CT. If you're in Connecticut and looking to join a sportsbook for the very first time in 2022, DraftKings has to be close to your first option.
DraftKings Promo Code for 2022 in Connecticut
When you join DraftKings Sportsbook in Connecticut via exclusive promo links featured on this page and you should land at the page below.
Click SIGN ME UP to proceed.
Step 2: Register Your DraftKings Sportsbook Account in CT
You'll be taken to a new tab to start completing the registration form below, where you will enter your Username, Email and Password. The Promo Code field is optional, but if you've clicked through from Dimers as outlined at Step 1, you shouldn't need to enter anything here. Keep the checkbox ticked, too.
Pro Tip: You can't change your username once your account is created, so make it count!
Step 3: Enter Your Personal Information
You'll then need to provide your First Name, Last Name, DOB and Address to finalize your DraftKings Sportsbook account creation in Connecticut.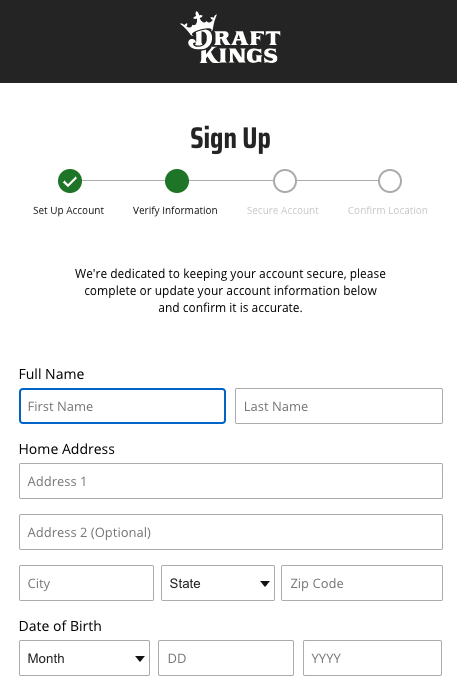 A little further down you'll also be asked for the last four digits of your Social Security number, which is the final step in verifying your DraftKings Sportsbook account in CT.
Why does DraftKings Sportsbook ask for SSN?
Sportsbooks, including DraftKings, need to know things like your address and SSN to make sure that new players are legitimately new, and to qualify your account. Don't be alarmed, these are standard boxes they need to tick to get you playing and won't come up again once you're in. Just make sure you enter your details correctly and you won't have an issue!
Couldn't get verified straight away?
Not a worry, this sometimes happens. Simply upload the documents that DraftKings Sportsbook requests to finalize your account verification, whether it's proof of ID or residence (or maybe both).
Once you've completed all the above, the final step is to check a number of boxes to agree to the terms and conditions – and then you're in.
Step 4: DraftKings Sportsbook Confirmation
You made it and are now one of the many customers in Connecticut playing at DraftKings Sportsbook in 2022! Better yet, because you joined with Dimers, you also have 20% on the house to get started with. Options, baby!
DraftKings Sportsbook App
DraftKings Sportsbook's mobile app is one of the best sports betting apps available. You can download the DraftKings Sportsbook app via the App Store for Apple devices and Google Play for Android devices.
Pro Tip: New to sports betting? Read our 5 steps to placing your first online sports bet.
Pros
Market-Leading Promos
Live In-Play Betting
Cash-Out Feature
Cons
Desktop Experience Is a Little Cluttered
DraftKings FAQs